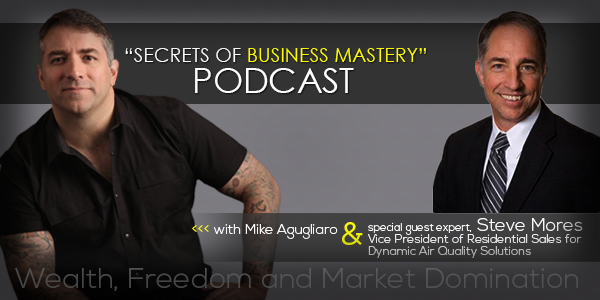 Summary:
In this week's episode of The Secrets of Business Mastery Podcast, Mike Agugliaro interviews Steve Mores, who is the Vice President of Sales for Dynamic Air Quality Solutions. Steve trains contractors on how to be successful and capitalize on every single call. During the podcast, Mike and Steve discuss training, best practices, private labeling, the sales process, marketing, and customer experience.
Main Questions Asked:
What are the important things on training employees who deliver education on products?
What plays a part in the best practice in training?
Talk about private labeling.
How does a branded product fit into the sales process?
What are you putting in place to deal with today's speed of change in business?
What have your done to create experiences different to industry competitors?
Key Lessons Learned:
Training
A lot of times companies neglect training their own employees. If you educate the outside, then you have to educate inside.
It's important to build a culture of excitement for the company.
When staff is fully trained, then they will feel involved and start to feel the culture of the company.
Training is not a one-time deal. It needs to be an ongoing regiment that should be top of mind and happen daily.
No matter how big or small a company is, you must have a training room.
When you have training, get everyone involved and make it a specific day.
Train your business top-to-bottom. , Not not only people who are in front of the customers but everyone, so there is the same belief in the strategy.
Not everyone will hear something once and be able to act or deliver. Training needs to be reinforced.
Best Practices
Nothing beats in-person training, but this isn't something you can do everyday with every client.
There are multiple options to reach clients including live recordings or live web.
If you train someone once, they will only remember 15-20% of what they heard.
Constant, ongoing, regimented training is the key.
Any time you implement a new process, vendor, or new type of equipment, it's best to bring to a small group of people to ensure the change is a fit.
Whatever you can do to make it fun for yourself, your employees, and your customers will go a long way to get referrals on the new business.
Private Labeling
If you are building your own brand, it can't simply be putting your name on something. You have to back it up with great customer experience.
There are ways to negotiate private brand deals with manufacturers so you can be the sole distributor in certain territories.
Your brand needs to be backed up with training and a unique website.
Brand recognition is build built through marketing, advertising, and people in the field.
60% of consumers base their decisions based on reviews.
The Sales Process
Sales used to be about the sales person and how they could manipulate the customer into buying.
Today, sales are more about the experience and consumer education.
Your team has to believe in the product (technical training) and be able to transfer that belief to someone else (communication training), and the reward has to be money.
You have to design your systems, processes, and procedures around what you're focusing on.
The 'Experience,' Business Today, & Culture
Creating a true 'experience' for the customer means there will be a longer-term customer relationship with the company.
The ways companies grow today, is that they are willing to admit their own faults to others. This is where the true lessons are.
Businesses today is are heading toward building the right culture, make it exciting, and have that excitement come across in the field.
You really don't understand culture until you have changed it and empowered it in an entirely new way.
Everyone as a whole creates a 'smart room;' it is never about an individual.
Marketing
This needs to be timely and based on where your company is on the business cycle.
Marketing needs to be budgeted for correctly. Make it a percentage of what you are selling.
You need to know what effectiveness actually is. Measurement is crucial to marketing.
Thank you for listening! If you enjoyed this podcast, please subscribe and leave a 5 star rating and review in iTunes!
Links to Resources Mentioned
Dynamic Air Quality Solutions
Steve Mores (linkedIn)
Smores@dynamicAQS.com
Cell: 630-417-4998
Click to Tweet
Does your business have a training room? Find out why you need one w/
@DynamicAQS @CEOWarrior http://www.ceowarrior.com
What are best practices when it comes to training staff? Find out w/
@DynamicAQS @CEOWarrior http://www.ceowarrior.com