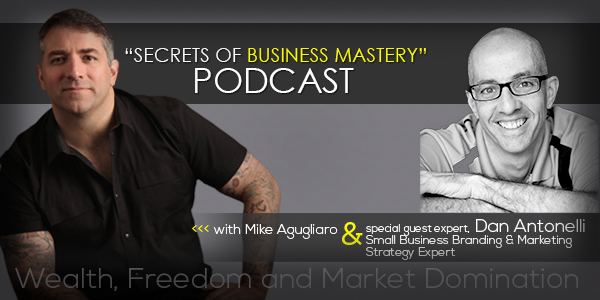 Summary:
In this week's episode of The Secrets of Business Mastery Podcast, Mike Agugliaro interviews Dan Antonelli, who has more than 20 years experience in small business branding and marketing strategy. Dan is the CEO and creative director of the New Jersey agency Graphic D-Signs. He has helped almost 1,000 small businesses succeed and has won more than 200 awards since founding the business in 1999. During this episode, Mike and Dan discuss where most businesses fail in branding, brand promises, and how a brand delivers.
Main Questions Asked:
What does your company do?
Help us understand the subject of brand.
Why is brand so important to small business today?
Does your brand change over time, and can it be modified or updated?
What is the mental and emotional process of rebranding a business?
Is it important for the owner's identity to be present in the branding?
What are some of the branding nightmares you've seen?
What matters when you build a brand?
Why does it matter to create something original when it comes to branding?
What are the other pieces of branding?
Key Lessons Learned:
Graphic D-Signs
Branding: Web design, content marketing, and search engine strategy.
Traditional graphic design: Brochures, direct mail, billboards, and car wraps (fleet branding).
What is Branding?
Branding is what people say about you or your company when you're not in the room.
The logo isn't the brand but rather the 'hub' of the brand.
Brand is made up of the social strategy, marketing materials, advertising, employees, brochures, and uniforms.
The brand needs to represent the core values of the company.
Importance of Brand
The marketplace is so busy, and everyone is competing to break through the noise in the marketplace.
The goal is to be the brand that stands out in a sea of conformity and is disruptive.
So many brands are neutral. This means you could look at them and not think anything positive or negative.
Rebranding
Success in spite of a poor brand is not a valid reason to perpetuate it.
Imagine how much more success you might have had if you didn't have a poor brand.
A logo isn't about what you as the owner like. It's about what your target audience likes.
When a company has initials or a last name, it is a challenge for branding to stick.
After the Rebrand
Let existing clients know that the change has happened, as well as what the change signifies and means for the company moving forward.
The Process
The point at which someone thinks about branding is often at the end of the process of starting.
Branding isn't inherently given a lot of thought at the onset. This means that, if done incorrectly, it will need to be re-done later.
If you don't have a great branding foundation, then how do you expect to have an outstanding website, truck, uniforms, etc…
Colors, Fonts, and Brand Minutiae
It's important to do research on color schemes in the area so you differ from competitors.
Go for color selections that are atypical.
Distance legibility from a vehicle standpoint is often overlooked.
Fonts need to be legible, bold, and be read from a great distance.
Any imagery, mascot, or icon needs to be discernable from a distance too.
Originality in Branding
If you use ClipArt, you can't trademark your own brand.
Hire a company that creates original artwork so you can own it, trademark it, and defend it.
So many companies are focused on making money that they don't manage risk.
Biggest Issues
When the brand doesn't represent what the company actually delivers.
Branding Tips
The aesthetics is communication as much as the message.
Regardless of when the consumer interacts with the message, the brand needs to be consistent.
Every touchpoint needs to represent the company in the same way such as the typography, how the company references itself.
Think about how the brand lives on multiple touch points and not just one.
Dan's Business Tips
What you are doing today is not good enough for tomorrow.
Innovate every day and surround yourself with a team that is equally passionate about the journey.
The smartest thing any business owner can do is hire people who are smarter than themselves.
Thank you for listening! If you enjoyed this podcast, please subscribe and leave a 5 star rating and review in iTunes!
Links to Resources Mentioned
Graphic D-Signs
Who Moved My Cheese?
Click to Tweet
What is the biggest mistake small businesses make in branding? Find out how to avoid it w/ @graphicdsigns @CEOWarrior www.ceowarrior.com
Not really sure exactly what branding involves? This podcast explains everything! @graphicdsigns @CEOWarrior www.ceowarrior.com